Kim Papworth is Executive Creative Director at Wieden+Kennedy, London.
Honda – "Jump"
Honda – "Impossible Dream"
Lurpak – "Be Wonderful and Wise"
Kaiser Chiefs' Bespoke Album Creation Website Demo
Nokia – "Night Fishing"
Honda – "Grrr"
Honda – "Choir"
Honda Experiment Game
Honda – "Museum"
Nokia – "Dot"
W+K and Aardman Animations broke a Guinness World Record for 'smallest stop-motion animation character in a film' with 'Dot'.
Shot entirely on the Nokia N8, the film showcases the smartphone's 12 megapixel photography capabilities and also celebrates the CellScope, an invetion created by Professor Daniel Fletcher. The CellScope is a microscopic device attached to a Nokia handset, which the Professor used to produce life-saving technology: with his invention he has helped diagnose fatal diseases in remote areas in third world countires.
Honda Print – "Banana"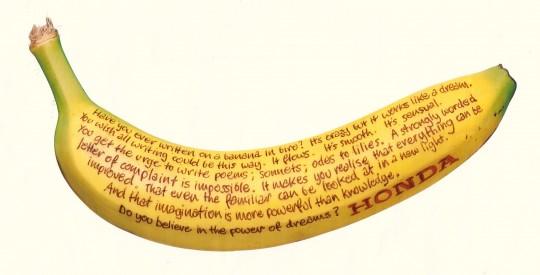 Honda Print – "Motor Oil"